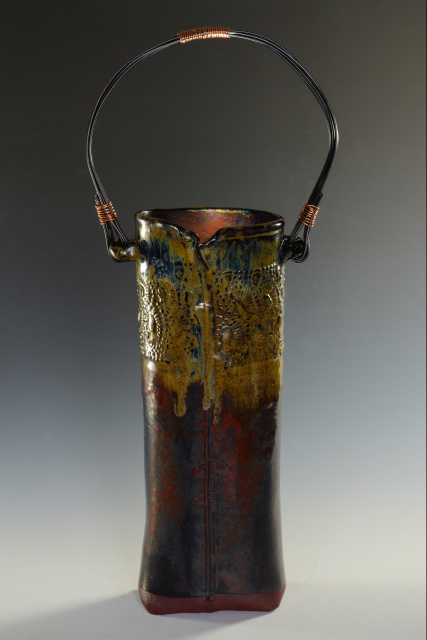 Welcome to Mud Pie Arts Pottery in beautiful Eldorado at Santa Fe NM, where we have recently moved from Boise ID.
I have worked in clay for the last 25 years, and have gone full circle from sculpture to function, and now combine both. My main interests in clay are texture, form, and color. Texture comes from many sources, including hand-carved stamps and roulettes that I have made, wooden Indian textile stamps, buttons, beads, and many found objects collected through the years.
Form comes from functional pottery shapes passed down through the ages. My use of colors is greatly influenced by color combinations I find in nature in the local foothills, and from my years spent in the Southwest. Most of my works are made in red clay, my homage to the red colored hills of the American Southwest.
UPDATE: Mud Pie Arts Pottery is relocating to Santa Fe NM in Spring, 2018. We will be setting up a new studio there very quickly. We are aiming for March, 2018 to relocate there. We have lived in Albuquerque previously and have dreamed of being in NM again. Thanks for your support here in Idaho.